VICTORIA 8 BRITISH FIRE BRIGADE
FOUNDATION DEED
In the city of Lima on this twelfth day of February 1873, on these premises which will be the station of this fire brigade, with Mr. George E. Clissold present as Chair of the Organizing Committee of the British Fire Brigade, he states that his efforts have met with success and thus he has completed what he set out to do in establishing a Fire Brigade. He states that the firefighters have been sufficiently prepared and are thus ready to take up their duties. The Organizing Committee has secured from the Lima District police station a hand-drawn pump which is on the premises together with the necessary implements, namely: hose carriage, ladders and used hoses that we have repaired so that they are fit for use, nozzles, canvas buckets, iron connections, axes and lanterns, which we are accepting in order to provide better service, at the request of our engineer Mr. William Sangster, who requested that this brigade bear the name of Her Majesty Queen Victoria. It is my duty to inform you that Her Majesty has granted this request. I therefore declare that the British Fire Brigade Victoria has been founded on this day, the 12th of February 1873, and that as of this day it will officially begin its labour. I further declare that all those who were members of this committee are to be considered founding members. Those who are elected as members of the first Provisional Board will remain so until elections are called. In witness whereof we sign this deed,
Carlos Monroow

Francis Douglas

W. Kinsley

Henry Monrroe

Thomas Simpson

R. Caw

George Clissold

William Sangster

John Wilson

Santiago Hayes

W. Vakley

Carlos Price

José Porthanse

John Watson

Henry Davis

Andrés Dunn

William Smith

J. Herr

Roland Frazer

G. Martín William Shuttleton

Guillermo Steed

David Lawson

George Campbell

Alejandro Mac Bride

PROVISIONAL BOARD

Commander George Clissold

Captain John Watson

1st Assistant officer William Smith

2nd Assistant officer William Sangster

3rd Assistant officer Andrés Dunn

Secretary John Wilson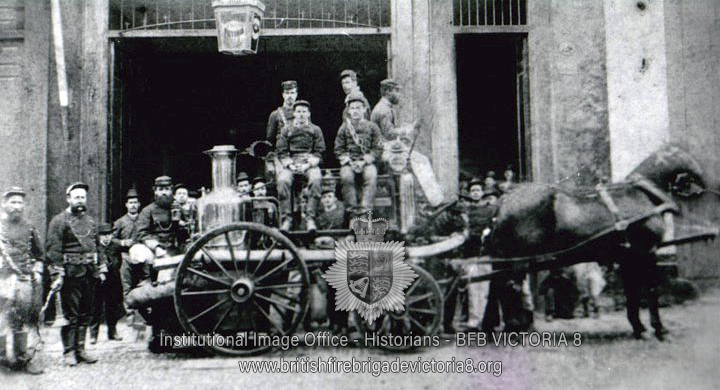 HISTORY
It is said that our Fire Brigade was born on the 1st of April 1866, when a group of British citizens who were resident in Lima responded to the call of the Mayor of Lima, Pablo Antonio Salinas, requesting the support of the people in organizing fire brigades in order to defend the cities of Lima and Callao from the imminent blockade and attack of the Spanish squadron that had just bombarded the Chilean port of Valparaiso. To this end, the government of General Mariano Ignacio Prado organized the defence of Callao, setting up emergency hospitals, blood banks and teams of doctors and nurses. The residents of the Italian and French communities also mobilized and in April 1866 founded the Roma and France fire brigades respectively. Similarly, the employees of the municipality of Lima backed and organized the Municipal Lima fire brigade.
THE STRENGTH OF THE TEAM LIES IN EACH INDIVIDUAL MEMBER
THE STRENGTH OF THE INDIVIDUAL LIES IN THE TEAM